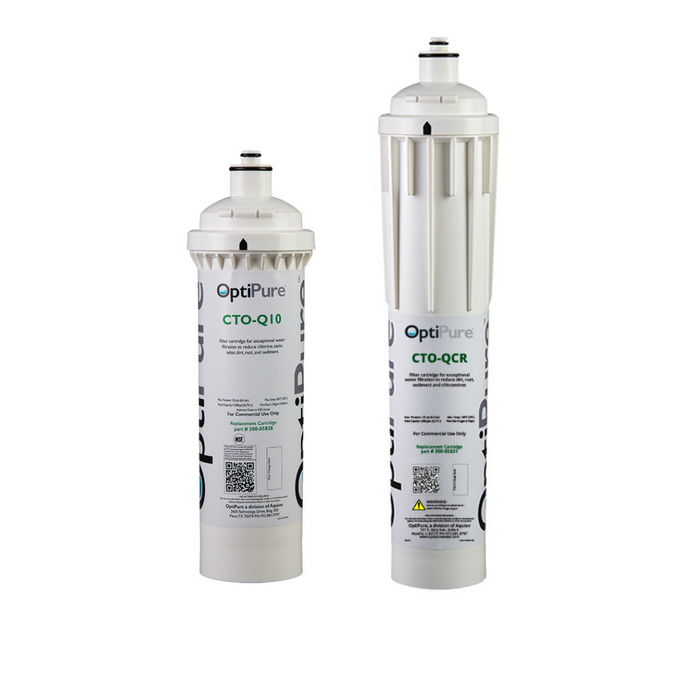 OptiPure QTI1+CR Replacement Cartridge Kit (CTO-Q10, CTOS-QCR)
SKU
1x 300-05828 & 1x 300-05831
Original price
$160.80
-
Original price
$160.80
Why shop with Vita Filters?

Description:
The CTO-Q10 is a 10" Qwik-Twist cartridge that reduces sediment down to 0.5 microns and reduces chlorine, taste & odor at a flow rate of 1.5 GPM for 15,000 gallons.
The CTOS-QCR is a 15" Qwik-Twist cartridge that reduces chloramines to 6,000 gallons at a flow rate of 0.5 GPM. The cartridge includes IsoNet, OptiPure's patented scale-inhibiting technology, which delivers consistent protection against the precipitation and accumulation of scale and provides a protective barrier to help guard against corrosion.
Resources:
FREE SHIPPING - Usually ships in 1-2 business days.
Pentair OptiPure Warranty Support
Please Note: OptiPure is now part of the Pentair family of brands. Many well-known Optipure filter systems have been discontinued and/or rebranded under the Pentair Everpure brand. The quality and specifications for all Pentair Everpure filter systems remain extremely high. This change may mean OptiPure part numbers will be rebranded as Pentair Everpure and/or may have Pentair Everpure labels.