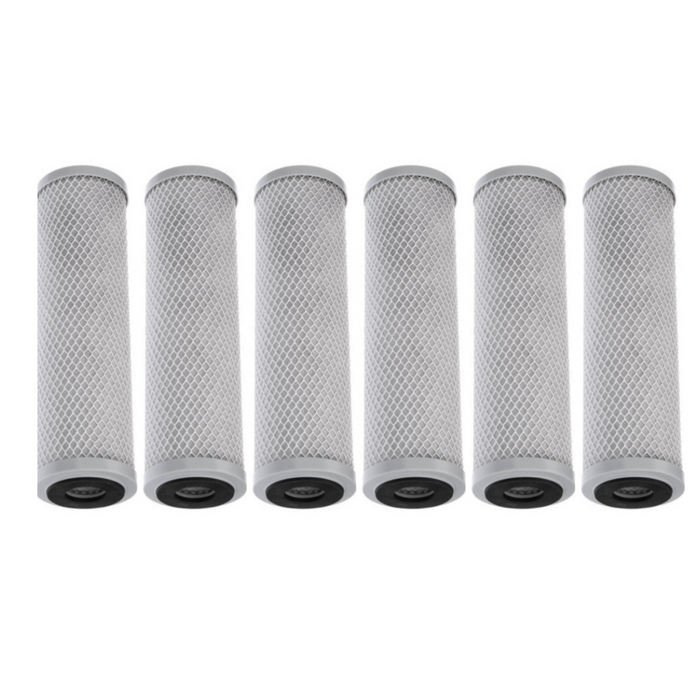 OptiPure CTOS-10 252-20210 10" CTO & Scale Reduction Cartridge 6-Pack
Original price
$183.60
-
Original price
$183.60
Why shop with Vita Filters?

Description:
The CTOS-10 is a 10" Drop-In cartridge that reduces sediment to 0.5 microns and reduces chlorine, taste & odor at a flow rate of 1.5 GPM for 15,000 gallons. The cartridge includes IsoNet®, OptiPure's patented scale-inhibiting technology, which delivers consistent protection against the precipitation and accumulation of scale and provides a protective barrier to help guard against corrosion.

Applications: Ice machines, coffee brewers, and steam equipment
IsoNet® - OptiPure's patented scale-inhibiting technology protects equipment against scale and corrosion.
Reduces maintenance frequency and cost and extends equipment life.
Gradient-density depth filtration reduces dirt, rust, and other debris as small as 0.5 microns to ensure clean, clear water and protect solenoids, valves, and other fittings against wear and plugging.
Activated carbon filtration makes water taste great and protects equipment against corrosive chlorine.
High capacity cartridge extends filter system life, reducing maintenance frequency.
Improves equipment operating efficiency by reducing scale and corrosion.
Generates less waste; only the drop-in cartridge is replaced—no discarding of metal or plastic quick-change cartridges.
Replacement cartridge cost per gallon is much less than proprietary quick-change filters.
NSF Certified under Standard 42
Part Numbers:

CTOS-10 252-00310 (single)
CTOS-10 252-20210 (6 pack)
System(s) Cartridge Used In:
FXI-11 160-50105 1()
FXI-21 160-50015 (1)
FREE SHIPPING - Usually ships in 1-2 business days.
Pentair OptiPure Warranty Support
Please Note: OptiPure is now part of the Pentair family of brands. Many well-known Optipure filter systems have been discontinued and/or rebranded under the Pentair Everpure brand. The quality and specifications for all Pentair Everpure filter systems remain extremely high. This change may mean OptiPure part numbers will be rebranded as Pentair Everpure and/or may have Pentair Everpure labels.